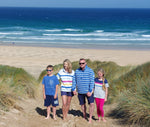 Upton Towans off the coast of St Ives in Cornwall made for an excellent shoot location. From the sand dunes and tall grass to the beautiful blue skies and turquoise seas. The contrast and texture of this location fully captured and displayed all of our garments wonderfully.
What more could we ask for!
Bright and vibrant colours have always been a staple for Lazy Jacks, so what better time to show them off than the summer time! Whether you like brights, lights or dark blues there is something for the whole family
 in our Spring Summer 22' range.
Sunny days on the beach mean playing games or building sandcastles together and creating lasting memories. Our garments are the perfect option for a long day out due to their comfort, style and fit.
This is reflected in all of our stunning Men's, Women's and Kids collections.